Article:5 Things We've Learned from Week 1 Division A Stage 2
5 Things We Learned in Week 1 of Division A - Stage 2
The
Global Pro League
returned with a bang this week as some of Call of Duty's biggest names battled it out in Week 1 of Division A. 14 matches later, we've learned a lot more about what to expect as the league continues.
The Competition is Tighter than Ever
As many expected coming into Division A, it's proved very difficult to separate the many star-studded rosters in the first week of play. No team has lost less than 3 maps, and out of 14 series played, 7 went the distance to a Game 5 SnD. Only Red Reserve remains undefeated, but having only played 3 matches and defeating Epsilon on day 1, they have yet to face their hardest tests. All teams have shown signs of promise, but it appears SnD proficiency, particularly in map 5, will be the deciding factor for playoff spots down the stretch. Echo Fox, Team Kaliber and Evil Geniuses all played 4 series this week, 3 of which went to the last map in each case. EF and tK went 2-1 while EG were 1-2: clutch factor in game 5s will likely prove the difference in such a stacked group.
FaZe are yet to Find their Stride
Stage 1's champions have endured a rough week of matches, finishing without a series victory alongside counterparts Epsilon. They opened proceedings with a devastating 3-0 whitewash at the hands of Team EnVy, followed by a 3-1 defeat to EG and a crushing 3-2 loss to Team Kaliber in reverse sweep fashion to round out the week. A slow start was somewhat expected for FaZe, considering the amount of film available of their gameplay; the only non-APAC team to keep their roster for the entire year. From a KD standpoint, Priestahh and Attach have both fallen below their expected levels, and will need to pick up the pace into Week 2. Thankfully for FaZe, they start off against Epsilon, hypothetically the easiest matchup. A clean victory here might build FaZe's momentum, but if they are to make Playoffs it's very unlikely to be as convincing as Stage 1, as they've already lost the same amount of series this stage as they lost the entirety of the last.
Team Kaliber Came to Play
Team Kaliber's roster has a very different face to the Dallas and NOLA, saying goodbye to Chino and Theory for Fero and new recruit Enable. I will admit I did not expect much from this roster given the quality of the field, but they have matched up very well against every team so far, only falling to division-leaders Red Reserve in a game 5. Kenny is once again making a case as the best SMG player in the game, putting on a dazzling display of skill and clutch proficiency all week long. His map winning 4 piece against Echo Fox is one of the most impressive showings of individual capability we have seen this season. Rewinding the clock, Team Kaliber's signature was clutch plays and game 5 victories; this trend appears to be re-emerging even without talisman Theory. The SnD prowess of Kenny, Accuracy and Fero especially should serve tK well as they seek playoff qualification.
Red Reserve Looking Strong
Skrapz has hit the ground running on this new roster, boasting a 1.25 KD in HP and a phenomenal 2.0 in SnD. After dispatching Epsilon 3-1 on Tuesday, Red overcame a strong test in Team Kaliber in game 5 fashion. Showing great composure, they recovered from a 250-105 defeat in map 1 to turn the series on its head, despite Zer0 significantly underperforming. This is a great sign for Red, as if Zer0 had a poor series on the old roster, defeat was almost assured. They closed out the week with a 3-0 sweep of European rivals Splyce, where former player Joshh's loyalty now lies. Every map was a tightly-fought affair, but Red showed their class and finished off the series with their first CTF victory of the division. The new roster is 8-1 over HP and SnD combined however, a daunting prospect as these 2 modes form 80% of a series. If Red can maintain this form moving into some tough matches next week, Splyce will struggle to claw their way back to the top of European Call of Duty.
Epsilon might not Win a Series
Epsilon opened their campaign at a predictable 0-3, but showed some signs of promise even in defeat. Their 2 map wins have come on Flak Tower CTF, seemingly Dqvee's playground where he runs riot with the PPSH. Unfortunately for Epsilon, their HP and SnD have been very weak, yet to win a map in either mode. However, in their last match of the week against Echo Fox, they showed ability to compete on Gibraltar HP especially. Many teams will approach the Epsilon match as a guaranteed victory, and Reedy's crew may be able to steer the veto towards Gibraltar HP and Flak Tower CTF as a result. My main worry is with their SnD. The traditional method to achieve an upset is to win both SnDs and snag a respawn. Epsilon have averaged 2.67 rounds in each SnD map so far, as a result of poor opening setups with almost no trade potential. One would hope that with 2 weeks in the States surrounded by the best teams in the world, Epsilon might learn a thing or two about SnD, but this game mode needs a major strategic overhaul to have any hope of causing a ruckus in Division A.
The Global Pro League returns this Tuesday 22nd May at 2pm EST, with a spicy timeline of matchups. Epsilon will seek an upset over FaZe or tK, Red look to remain undefeated against EG, FaZe will be gunning for their first victory against Echo Fox, and EnVy take on struggling Splyce.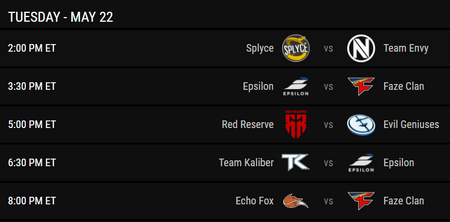 Published on 20. May 2018
Written by Arran Francis / Twitter - @TheTacticalRab'
Click Here to return to the Articles Portal.